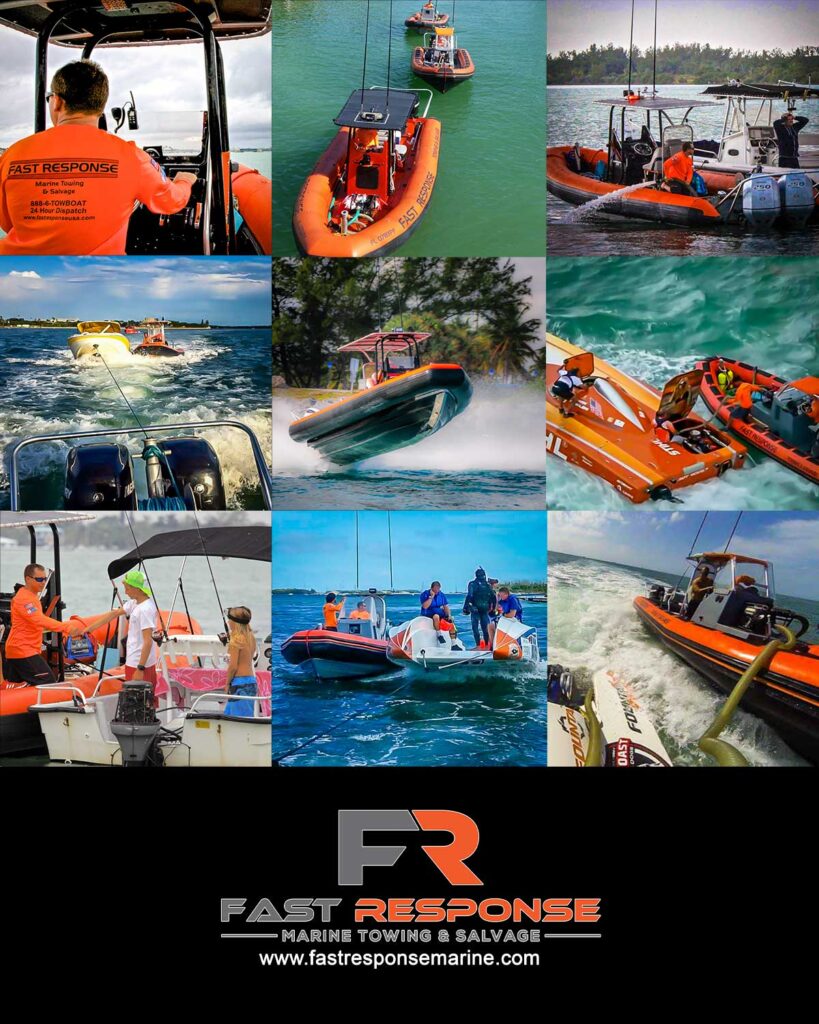 Fast Response Marine Towing & Salvage, LLC, is a privately owned company in Miami, Florida. From time to time, we have openings for qualified licensed captains to provide marine assistance to boaters in Broward and Dade counties, Florida.
We expect more from our captains!
Our commission structure generously rewards our captains who meet the company's high operational standards and performance goals.
Skills and Traits of a Fast Response Marine Towboat Captain:
Honesty and personal integrity
Exceptional boat handling skills
Confidence
Multi-tasking
Time management
Problem-solving and adaptability – the ability to make a decision, and make it quickly
The ability to think analytically and creatively at the same time
Mandatory requirements:
USCG Licensed Captain with Tow Endorsement in good standing.
Transportation Workers Identification Credential (TWIC) in good standing.
PADI Certified.
SCUBA Certified a plus (current).
Candidate must submit to a pre-employment drug test as required by the United States Coast Guard. Upon hiring, the candidate must submit to random drug testing as a condition of his or her employment with Fast Response Marine Towing & Salvage.
Candidate must submit to a pre-employment background check.
Candidate must possess a valid Florida driver license and have access to a reliable vehicle for use by the candidate.
Candidate must submit to and pass a basic swim test in accordance with industry standards for similar maritime positions.
Each candidate must reside in Dade County, Florida.
Spanish speaking a plus.
Responsibilities and duties include, but are not limited to, the following:
The safe operation of a Fast Response Towing vessel for the purposes of providing marine assistance to boaters in Dade and Broward Counties, Florida.
Assist boaters on the water by providing towing services, un-groundings, jumpstarts, fuel drops, and salvage services to vessels in need of emergency assistance.
Communicate clearly and calmly with boaters and other dispatch personnel over telephone and VHF radio.
Perform daily routine maintenance on the towing vessels, including, but not limited to, equipment checks and basic maintenance and upkeep.
Professional and respectful treatment of all boaters.
Job Type: Part Time/Full-time (at the conclusion of a mandatory 20-day probationary period).
Job Location: Miami, FL
Minimum Required education: High school or equivalent
Required experience: Exceptional boat handling skills, previous towboat experience a plus.
Required language: English, (conversational Spanish a plus)
Candidate is expected to be flexible in working a specified shift on weekdays/weekends and some holidays. In addition, the captain can be called upon to respond in emergency situations. Captains are paid a daily shift rate. Our commission structure generously rewards our captains who meet the company's high performance goals. The candidate receives regular feedback regarding his or her performance and abilities. In addition, after one year, the candidate is eligible to participate in a company match 401K plan. Additional benefits will be added as we continue our expansion. The candidate must complete all necessary training to the supervisor's satisfaction before he or she is authorized to operate a vessel without immediate supervision.
If you believe you have the exceptional skills to join the Fast Response Marine Towing & Salvage team, we welcome your application. Please send a resume detailing your boating experience and/or other maritime-related employment, experience and knowledge. Please also provide us with a copy of your United States Coast Guard license and TWIC.
E-mail your resume and required documents to: jobs@fastresponsemarine.com
or mail your application to:
Fast Response Marine Towing & Salvage, LLC
2743 NE 28th Court #6
Lighthouse Point, FL 33064
No Phone Calls, Please!